April Book Club: The Thousand Autumns Of Jacob De Zoet by Davis Mitchell
April 27 @ 3:00 pm

-

4:00 pm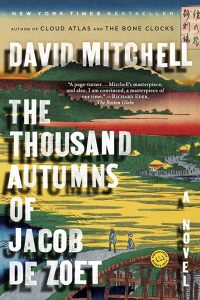 3:00 p.m., Thursday, April 27, 2023
The Thousand Autumns Of Jacob De Zoet by Davis Mitchell

"The Thousand Autumns of Jacob de Zoet" is a historical fiction novel by British author David Mitchell, published by Sceptre in 2010. It is set during the Dutch trading concession with Japan in the late 18th Century during the period of Japanese history known as Sakoku. The novel begins in the summer of 1799 at the Dutch East India Company trading post Dejima in the harbor of Nagasaki. It tells the story of a Dutch trader's love for a Japanese midwife who is spirited away into a sinister mountain temple cult.
Please join us for all our upcoming in-person Book Club meetings. We also will offer Zoom platform meetings for those not comfortable meeting in person at this time.
Click here to download the flyer for all the book club meetings. To register, or if you have questions, please call 724-282-0123 or email info@maridon.org.