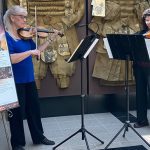 The Butler Cultural District kicked off its First Saturday event on June 3, 2023, in downtown Butler, PA. There were happenings in various locations within the cultural district to include, The Butler County Symphony musicians playing inside The Maridon Museum. Visitors listened to the beautiful sounds of the flute (Cassandra Eisenreich), violin (Christie Kecskemethy and Sasha Shapiro), and bassoon (Christina Savannah) echoing throughout the museum while enjoying a sweet treat!
Other opportunities for participants included the grand opening of Forever Kindred, art showcased by Gallery 422 on Main, handwriting analysis at Cummings Coffee by Paul Dao, and musical melodies on Main by Need for Reeds. Participants were also able to design wearable art at the Public Library, enjoy Robin's Home Food Truck & Rock Fest, and meet the author of "Rediscovering Your Story: Grace and Gratitude on the Path of Recovery" at Succeed.
The Maridon Museum is proud to support the Butler Cultural District. We thank the Butler County Symphony musicians and all those who participated in this First Saturday event. It proved to be a culturally enriching day! Watch for more fun and excitement planned for this summer! You can visit the Butler Cultural District website at butlerculturaldistrict.org for up-to-date information.