Chinese New Year, also known as Lunar New Year or Spring Festival, is just around the corner.  Chinese New Year or Lunar New Year 2022 will fall on Tuesday, February 1st, 2022.
Celebrations of Chinese New Year traditionally last for 16 days, starting from Chinese New Year's Eve to the Lantern Festival. In 2022, that is from January 31st to February 15th. Because the Chinese New Year is determined by the lunar calendar, the second new moon after the winter solstice each year falls on a different day, usually between Jan. 21 and Feb. 20.
Families will gather and celebrate with moon cakes, fireworks, red clothes, and decorations, to name a few traditions. Each new year represents an animal from the Chinese zodiac as well – 12 that rotates in a cycle. This year marks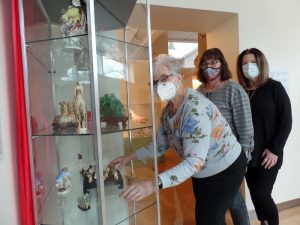 the Year of the Tiger.  If you were born in a Year of the Tiger, you are predicted to be brave, competitive, unpredictable, and confident.
At the Maridon Museum, we have several representations of the zodiac animals, including a cloisonne ox and cart. Our collections committee members Carole, Anne, and Cyndy assembled an exhibit displaying the zodiac animals. Visitors can enjoy reading about their Chinese zodiac animal and its characteristics in our Scholar's Gallery.